WRITERS' LETTER:
Although The Show Must Go On is the second show here at GSDT written by Amy and Jordan (the first being this past Christmas' hit Viva Las Vegas) it is actually the first show that they wrote together. The wacky cast of char-acters you are about to see were dreamed up entirely in Dawson City, Yukon, where Amy and Jordan were both performing in a cabaret show for the summer, and they made each other laugh every day writing these charac-ters. They hope you laugh as much as they did. Jordan would like to thank Amy for being the best darn writing partner a guy could have. Amy would like to thank Jor-dan for having great taste in writing partners. They both thank you for coming and hope you enjoy the show!
Amy Soloway & Jordan Ginn (Writers)
James Omand (Sound Technician)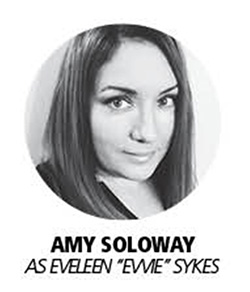 Amy is very happy to be returning to GSDT for her eighteenth show. You may remember her most recently as Cilla St. James in this Christmas' Viva Las Vegas (which she co-wrote) and also in last Christmas' Home For The Holidays as Chiquita. She also directed the ABBA show Take A Chance On Me for GSDT last winter. Nova Scotia born and bred, Amy has honed her vocal talents in many recording studios and countless live performances, both as a lead performer and as a supporting one all over the globe. She has happily been playing the lead role of Diamond Tooth Gertie at the iconic Diamond Tooth Gertie's Gambling Hall in Dawson City, Yukon for the past nine summers. She will be returning for her tenth season this May. Amy directed The Show Must Go On, and also co-wrote it with her writing partner, Jordan Ginn. She is very excited to share it and its wacky characters with all of you. Have fun and as Bert would say, keep your stick on the ice!
Carolyn Curry is thrilled to be music director for The Show Must Go On. Since performing in her first show at Grafton Street Dinner Theatre in the summer of 2015, she has been assistant-music director to Michael Emenau in Divine Intervention: The Musical, at the 2015 Atlantic Fringe Festival, as well as music director for Spring Awakening (Side-by-Side Productions) in 2016. She has a Bachelor of Music in Jazz Studies from St. FX and a Master of Music in Jazz Studies from the University of North Texas.
Born in Newfoundland and raised in Dartmouth, Nova Scotia, Jordan Ginn is happy to make his fourth appearance at GSDT. This is the second show he has had the privilege of co-writing with his writing partner, Amy Soloway. You may have seen Jordan as geeky computer programmer Martin Shift in Off the Wall, cheesy ladies' man Randal Pears in Take A Chance On Me, or as wacky Elvis Impersonator Hector in Viva Las Vegas. Always a singer-songwriter before anything else, Jordan began his work in the Halifax music scene as a teenager busking on the waterfront. Through his university years, Jordan performed with his band in bars throughout the city. Most recently, through the summer of 2017, Jordan performed as lead male singer at Diamond Tooth Gertie's Gambling Hall in Dawson City Yukon, in its nightly cabaret shows. Have a great evening!
Becca Guilderson is excited to appear in her fifteenth production at GSDT. She has had the joy of playing many delightful characters like Snow White in Once Upon A Crime, Katherine in Someone Wake Paddy O'Brien, Janis in Off The Wall and as Helen in Home For The Holidays. You may have caught her as Anne in Anne & Gilbert with Stage Prophets, Marion in The Music Man ∎%tith Quick As A Wink Theatre, and Wendla in Side By Side's production of Spring Awakening. Most recently she had the joy of directing and performing as Natalie in Next To Normal with Saints Alive. Becca also spends much of her time teaching voice and piano privately and running her own theatre collective, Side-by-Side productions with her partners in Halifax!
Chris Bolton is excited to continue performing here at Grafton Street Dinner Theatre following his roles as Stuart in Will You Still Love Me Tomorrow? and Fizz in Ahead by a Century and most recently as Will in Viva Las Vegas! Raised in The Annapolis valley, Chris has always been active in the arts community singing in choir, performing in community theatre, and being involved in the Music program in school. This passion for music and performance then accompanied him to the Vocal performance program at Acadia University. There Chris studied ClassicaVOperatic voice, Musical theatre, as well as theatre acting. Chris' other roles include: Fred Voss in CBC's Pure, Rapunzel's Prince in Into the woods, and Chebutykin in Three Sisters.
This will be Tyler's third show with The Grafton Street Dinner Theatre and he is thrilled to be back. You may have seen him as Joe, or The Electrifying Ernesto in past shows. Tyler has also had the pleasure of being a part of Heathers: The Musical as Kurt Kelly/Ram's Dad. You also may have caught him in Spring Awakening back in October where he had the roles of Georg/ Choreographer and he recently choreographed Dartmouth High Schools production of Urinetown. Tyler is a graduate of Acadia University's theatre program \''here he had the opportunity to play Simon in Scorched by Wajdi Mohamad and the Herald in Marat/Sade by Peter Weiss.
Back for show number six at the Grafton Street Dinner Theatre, and Walter is ready to rock out! Walter most recently performed at GSDT in Viva Las Vegas, and before that he spent summers performing in the beautiful town of Dawson, YT. There, he performed nightly alongside many talented musicians and dancers in a can-can style show. It has long been a passion of his to work in the entertainment industry, like his late relative Stan Rogers. During his university years, \''here he completed a Bachelor of Science degree, he performed with a number of local bands on Cape Breton Island, where his hometown Sydney is located. After moving to Halifax, Walter was lucky enough to land a job at the dinner theatre and has fallen in love with the unique blend of service and entertainment. While he is looking to further his education in the health /science field, he is happy to be here doing what he loves; making music.